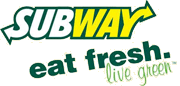 Thank you for having me as a speaker at your July 24th National Convention in Chicago, IL. I hope you enjoyed my presentation!

On June 29th, 2010, I had the distinct pleasure of volunteering to go to work for a Subway Restaurant in Gig Harbor, WA. This was a very memorable day because I learned firsthand the challenges that you face every day. I learned:

Why Food Rationing Is Important
How Through Put Keeps The Lines Moving
About the Desire to Eat While on the Job (Because it smelled so good!)
That Three Tomatoes go on a 6Ē inch Sub and Six on a Foot-Long
The Same Numbers are True with Cucumbers
Those Plastic Bags for the Sandwiches are Very Difficult to Open
The Challenges You and Your Team Face Daily
How Exhausting it is to Make Sandwiches Non-Stop for Two Hours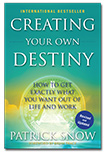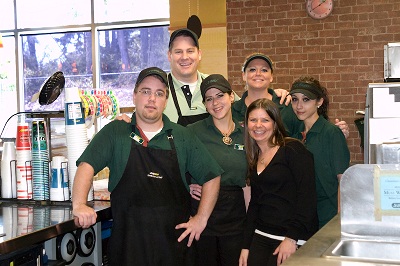 Dedicated team of sandwich artists in Gig Harbor, WA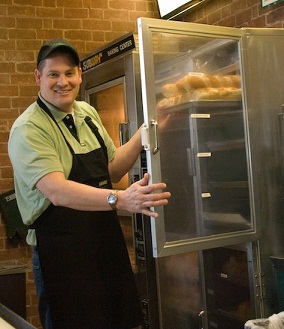 Baking bread...My favorite is Italian Herbs & Cheese!
I am having too much fun!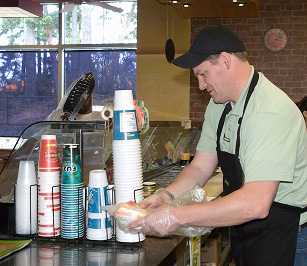 These gloves...make it impossible to put sandwich in bag!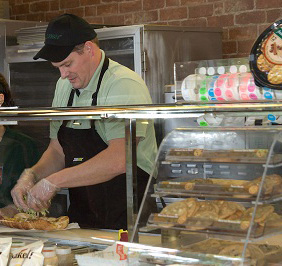 Three tomatoes on 6", six on foot long! Same with cucumbers!

Photo credits: Sandra Hixson-Matthews and/or Sandra Lynn Fine Portraiture


I even learned how to handle the big guy in line who says, "DONíT SKIMP ON THE TUNA!" His comment made my day. As a result of this experience, I have a much greater appreciation and understanding of your challenges.

Check out the photos on the right to see me in action, hard at work. As a result of this experience and speaking at your national convention, I have come up with a way where I think I can help you to achieve your three major goals:

Building Sales
Building Profits
Building Stores
What I am proposing is a simple swap: I purchase a Foot Long sandwich from one of your stores, and in return, you purchase a copy (or copies) of my book, Creating Your Own Destiny. My book is filled with numerous ways to grow your business on a limited budget (chapter 10). As such, I am convinced it will help you in your professional (and personal lives as well).

I encourage you to pick up a copy of my book (or copies of my books) for your team members (anywhere books are sold in stores, or online. You can even make the purchase at the link below). Once you make your purchase, visit this site and then enter in the following information:


Click Here to Purchase a Copy of Creating Your Own Destiny

Yes! I've purchased a copy or copies of Create Your Own Destiny
- Here is my information -




With this information in my database, my commitment to you and Subway is that as I travel all over the world over the next 25 years as a professional speaker, I will do all that I can to go out of my way and stop in at one of your Subway locations as my restaurant of choice and return the favor by purchasing a Foot Long Sub for every book that is purchased. I intend to lose weight in the process and be like Jared! If you are not in at the time of my visit, I will leave a business card with the store manager.

Thank you for your interest and for participating in the Subway Book Swap!I hope you enjoy my book as much as I know I will enjoy your sandwiches!

P.S. - If you are a Development Agent or Franchisee Owner and are interested in having me come speak to your local team of employees at a regional company meeting, I would be thrilled to do so. I can and will reduce my fee and work within your budget and deliver a message of inspiration to help reinforce your vision for your organization!

P.P.S. - Additionally, as a way to thank you for your book purchase, I will work with the local Subway owners in Seattle to make a donation to a local food bank.

Respectfully: